Youth event
The great advantage of holding the Congress on a Mediterranean island is the presence of the sea and wonderful beaches. That is why we have thought of organising the 2019 youth event on the beach, in a reserved area.
Here Intersteno youngsters will have the opportunity to play a great variety of beach activities, from sports to more relaxing ones, either in the sweet and pleasant hug of the sun, in the refreshing waters of a flat sea, or in the delicately windy shadow of equipped umbrellas or the nearby café.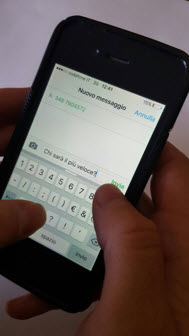 The event will not be without a competition. This year the novelty is the WhatsApp competition, exclusively reserved to the youngsters: a 160-character text to be typed as quickly and accurately as possible directly from your smartphone. For practical reasons the event will take in place in the morning at Ex Manifattura Tabacchi and the results will be communicated during the afternoon.
The morning will be also characterized by a workshop on old typewriting machine and the chance of typing on a real typewriting machine. The workshop is held in partnership with the Museo della Macchina da Scrivere, based in Milan (Italy), collecting thousands of machines, ranging from the first prototypes to the semiautomatic ones, and coming from various countries, times, and celebrities.
At noon a snack will be provided.
Highly recommended: solar cream, hats, beach towel, flip flops, swimsuit, water.